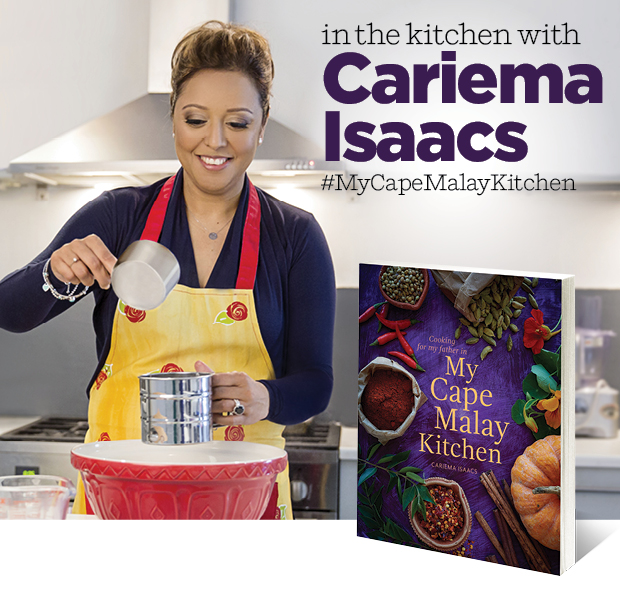 1. My first food memory is…the smell of warm aromatic spices when koesisters are being fried on a Sunday morning in Bo-Kaap. The koesisters are then dunked in glistening sugar syrup and sprinkled with beautiful snow white flakes of desiccated coconut.

2. My top tips for home cooks are…"Anything done in love, is done well" You must approach cooking with love, with complete comprehension of where the ingredients come from and recognise the ability you have to be able to transform something as unassuming as a potato, into a delicious and flavourful meal.

3. The one utensil / appliance in my kitchen that I couldn't do without is…My food processor and kitchenaid mixer! – till death do us part!

4. The most bizarre thing I've ever eaten is…Durian fruit, on a trip to Malaysia. The smell is overpowering and dare I say, slightly revolting! Wikipedia describes the smell to resemble that of rotten onions, turpentine, and raw sewage – I concur!
5. In my fridge & kitchen cupboards you'll always find…
In my fridge - fresh garlic, ginger, chilies and coriander, also Amiena's wet spice mixes and marinades. I'm obsessed with stocking up my pantry with all sorts of baking goodies, dried herbs and spices. Snowflake cake flour, KOO beaked beans and peas. Even in Dubai I go in search of proudly South African products (especially the ones I grew up with).
6. My favourite recipe from My Cape Malay Kitchen...
I'd have to say my favourite recipe from the book would be the "Crayfish curry" recipe, which is often eaten on Eid day. Cape Malays are known to love Crayfish (in fact anything seafood) and a good, slightly spicy curry. This is a perfect combination of both. Crayfish curry was also one of my dad's favourite dishes. He taught me how to cook this, including preparing the crayfish. I can't eat this dish without thinking about him.
My Cape Malay Kitchen is Cariema Isaacs's heartfelt and poignant account of the extraordinary relationship between herself and her father and how that was reflected in their shared passion for food and cooking. She recollects all of the dishes they cooked and ate together, and shares her childhood memories of growing up in Bo-Kaap (the Cape Malay Quarter in Cape Town), lending insight into the culture, religious ceremonies and family events that have shaped the Cape Malay community into what itis today.
But My Cape Malay Kitchen is also a book about flavourful food, richly spiced curries, indulgent cakes and decadent desserts. Cariema's refreshing approach to food showcases many of the much-loved Cape Malay vintage recipes as well as a selection of modern dishes, and is ideal for anyone who needs a little inspiration in the kitchen.
Available at bookstores nationwide. CLICK HERE to purchase a copy online.
Cariema Isaacs was born in Scotcheskloof in Bo-Kaap. She has a natural flair in the kitchen, and from an early age was familiar with ingredients that her grandmother would transform into the most scrumptious dishes. Cariema lived in Cape Town for most of her life, before moving to Johannesburg and thereafter Dubai, where she and her husband raise their two teenage sons. My Cape Malay Kitchen is her first book.