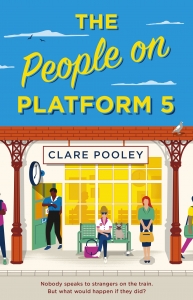 Extract: The People on Platform 5 by Clare Pooley
The brand-new feel-good novel from the bestselling author of The Authenticity Project.
---
Iona
08:05 Hampton Court to Waterloo
"Until the point when a man started dying right in front of her on the 08:05, Iona's day had been just like any other.
She always left the house at half past seven. It took her an average of twenty minutes to walk to the station in heels, which meant she'd usually arrive fifteen minutes before her train left for Waterloo. Two minutes later if she was wearing the Louboutins.
Arriving in good time was crucial if she wanted to secure her usual seat in her usual carriage, which she did. While novelty was a wonderful thing when it came to fashion, or film, or even patisserie, it was not welcome on her daily commute.
Some time ago, Iona's editor had suggested that she start working from home. It was, he'd told her, all the rage, and her job could be done just as well remotely. He'd tried to cajole her out of her office space with sweet talk of an extra hour in bed and more flexibility, and, when that didn't work, had attempted to drive her out by making her do something awful called hot desking, which – she learned – was corporate speak for sharing. Even as a child, Iona had never liked sharing. That little incident with the Barbie doll was still seared in her memory and, no doubt, her classmates' as well. No, boundaries were necessary. Luckily, Iona's colleagues quickly became familiar with which was her preferred desk, and it morphed from hot to decidedly frigid.
Iona loved going into the office. She enjoyed rubbing shoulders with all the youth, who taught her the latest lingo, played her their favourite new tracks and told her what to watch on Netflix. It was important to keep at least one finger plugged into the zeitgeist, especially in her profession. Bea, bless her, wasn't much help on that front.
She wasn't, however, looking forward to today very much. Her latest editor had scheduled a three-hundred-and-sixty-degree appraisal, which sounded altogether too intimate. At her age (fifty- seven), one didn't like to be appraised too closely, and certainly not from every angle. Some things were best left to the imagination. Or not thought about at all, to be honest.