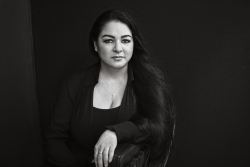 About
Sylvia is the #1 New York Times, #1 USA Today & #1 international bestselling author of over twenty award-winning novels translated into 41 languages. With tens of millions of copies of her books in print, she is a #1 bestseller in 28 countries.
For the past three years, Sylvia's novels took spots among the top ten bestselling books on global year-end sales round ups, making her one of the most widely read authors in the world today. She has been nominated for the Goodreads Choice Award for Best Author and her work has been honored as Amazon's Best of the Year. Sylvia served as the 22nd President of Romance Writers of America.
Hailed as "one of the most successful romance writers in the world" by Fox News, Sylvia's work has been covered in Time, Variety, People, the Wall Street Journal, Cosmopolitan, the Associated Press, USA Today, and Entertainment Weekly – to name just a few.
Photograph © Paul Gilmore